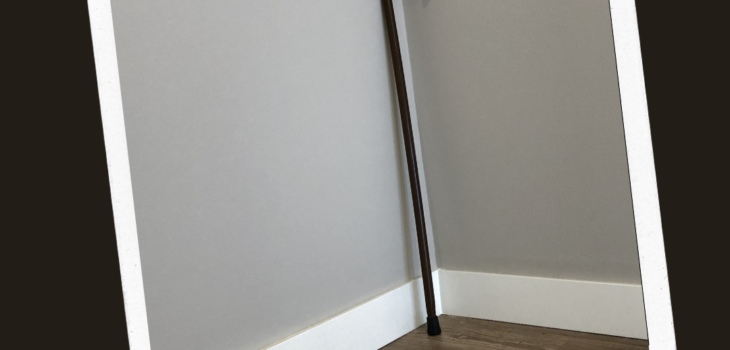 Christmas Magic
A cane sits in the corner of my living room. It has been with me most of my life and is the very first thing I place in every home I've lived in. This year, this move, this living room, is no exception. The cane is so much more than just my favorite Christmas memory. It's a wonderful memory of my dad, and exemplifies the power of storytelling, faith, and love.
I can't remember how old I was, but I must have been in early grade school. I was questioning the validity of a jolly old man breaking and entering. My house didn't have a chimney, so Santa had to use his Christmas magic to gain access to our Fraser Fir, precariously leaning in the metal tree stand. Was this really plausible? I wanted it to be. I wanted to believe.
Christmas morning was always overflowing with excitement and anticipation. One side of the tree was filled with gifts for my sister and the other side was all mine. If I didn't believe, would all this end? Would my stocking still be filled with oranges, apples, and Life Saver Story Books? I tried to ignore the questions circling my mind. I also wanted to be a grown up; I didn't want others thinking I still believed in a childhood fantasy. I was stuck between two worlds.
In those days, we only had four channels to watch on tv, the three networks and PBS. There were no tapes, discs, or recordings of any kind. And there was no remote; we had to get up out of our seat and walk across the room to change the channel. We watched whatever programming was on. During the holiday season, Christmas shows, and movies were always a must watch: Rudolph the Red Nosed Reindeer, Frosty the Snowman, The Little Drummer Boy, Santa Clause is Coming to Town, White Christmas, It's a Wonderful Life, Holiday Inn, A Christmas Carole, and Miracle on 34th Street.
On this particular year in my young life, Miracle on 34th Street struck a chord with me. If you aren't familiar with the 1947 film, it follows the story of Kris, a department store Santa who claims to be the real Santa. The story explores doubt, disbelief, and wavering faith. In the end, Susan, a little girl struggling to believe in Santa, has her faith in Kris, Christmas, and Santa restored when she and her mom find the home of their dreams. Upon entering the empty house, Susan knows it was made possible by Santa because his cane was in the corner of the living room.
After watching this favorite movie, a week or so before Christmas and crying my little eyes out, I decided to write one last letter to Santa. In my mind, if Santa was real, he had the power to know I wrote the letter even if I didn't send it. I asked him to prove himself to me by leaving his cane on the inside doorknob of my bedroom closet. I reasoned, if his cane was there on Christmas morning, then I could believe he was real. I finished my letter, folded it up into a tiny little square, and tossed it into the kitchen garbage bin.
The morning of Christmas arrived; I woke up with the usual excitement. Pulling my younger sister along, we ran to get mom and dad. We were in a hurry to look under the tree, but the rule was, we all had to go together. My dad insisted I get my slippers on before we looked to see what Santa had left. Never connecting the dots, I rushed to my closet.
I swung open the door with such force that the brown, wooden cane slammed against the door and startled me, demanding my immediate attention. In that moment, I experienced the awe and wonder of Christmas. Tears started to flow as I realized I had forgotten all about my letter, but Santa hadn't. He was real! There was Christmas magic! My dad had discovered my letter and filled my request on Santa's behalf. I believed for another year.