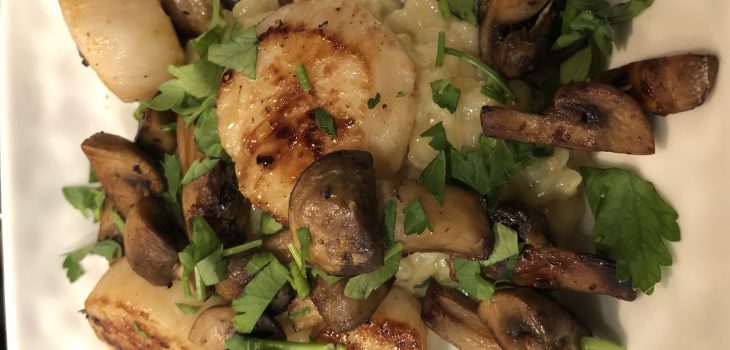 While I have used meal delivery services in the past for both convenience and novelty, this time, I had a specific purpose. I'm looking to increase my overall health, feed my body the nutrients it needs, and find a sustainable eating plan that fits my life.
I completed hours of research before finally choosing the 3 services I wanted to taste test. The criteria I was looking for included clean eating options that were easily prepared in 30 minutes or less. I also looked for whole, nutrient rich, high protein foods that eliminated added sugars, processed foods, unhealthy fats, and gluten. I chose:
Home Chef
Sun Basket
Trifecta Nutrition
1️⃣    Home Chef was the first service I tried. My four meals came in a box lined with plastic-covered insulation and one large ice pack. The proteins were individually, vacuum sealed and then placed in another zip-top bag so as not to contaminate any of the fresh ingredients. All other recipe necessities came in a separate, labeled, zip-top bag. I liked the clear labeling and being able to see through all the bags.
A binder and 8 1/2 x 11 recipe cards were also delivered with my order. Each card included photos and simple instructions. The recipes were delicious and easy to prepare. There was some chopping and multiple pans and utensils involved in the process, however, a beautiful, flavorful, hearty portion of food was plated in under an hour.
While not ticking off all of my criteria boxes, this was most definitely my favorite delivery service for serving up super tasty and satisfying meals. I have already placed another order. Want to try it for yourself?  Get $30 off your order by using this link.
2️⃣     Next, my order from Sun Basket arrived in a paper-lined, insulated box. The proteins were individually sealed, and the rest of the ingredients were in paper bags labeled for each of the three meals. A booklet was included with the directions to all of the company's recipes for the week, not just mine. The print was small, and the pages were busy with lots of extra information such as ideas on how kids could help cook. It felt like a magazine and overwhelmed me.
I unpacked the box and placed everything in the refrigerator. The next morning when I opened the refrigerator, a pinkish liquid had filled the surface of the center shelf and been sucked up by one of the paper bags. Gross! After some investigation, I discovered it was the fish that caused the mess and contaminated all the fresh produce in the paper bag. That left me with only one complete meal to cook.
I messaged customer service about the problem and was issued a $25 refund. I decided to cancel my account without ever tasting the food.
3️⃣     Finally, my box from Trifecta This service ticked off all the criteria boxes I was looking for in a meal delivery service and came fully cooked. While the other two companies I tried, served two from each recipe, Trifecta comes as a single serving ready to heat and eat.
The food was a tad bland for me as it is minimally seasoned. However, it is completely organic, no gluten, no soy, no dairy, no GMO, high protein, and low sugar. This company caters to athletes and offers macro-balanced meal plans. The smallest meal plan is seven meals per week and you don't get to choose them; the menu is planned for you.
I ordered the clean eating plan which consists of protein, vegetables, and a complex carb. Three of the seven meals I received didn't appeal to me, so I gave them away. The meals arrive fresh, can be kept in the refrigerator for up to 10 days or frozen for up to six months. Bottom line, I will order this again because of the food quality, convenience factor, and I discovered an a la carte menu that I missed the first time around. Currently, the company is not offering any discounts.
In conclusion, the meals from Home Chef made me feel like I was eating something special and decadent. I will continue to order these delicious meals for cooking a few times a week and fill in the other days with the fast and convenient, prepared meals from Trifecta. I also decided to try another prepared meal delivery service, Freshly. Delivery dates were sold out for three weeks from my order date, so I wasn't able to include this company in my review. If you'd like to try this service along with me, here is a link for $40 off your order!